Super Bowl Hacks from the Wing
It's already that time of year! On Sunday, February 3rd at 6:30 PM, Super Bowl LIII will kick off and we couldn't be more excited here at the Wing.  Every year the Big Game gets a little wilder in our 43 locations and it seems like that's the trend for the rest of America as well.
An estimated 103.4 million people watched the Philadelphia Eagles beat the New England Patriots last year during the Super Bowl. According to the National Chicken Council, that same weekend those 103.4 million people consumed an estimated 1.35 billion Chicken Wings! (Up 20 Million wings from 2017).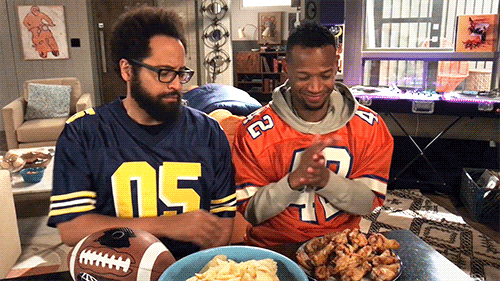 Whoa. Let's back that up a second.
If you break that down and really think about it, that's enough to put 625 Wings on every seat in all 32 NFL Stadiums. It's also enough to circle the Earth three times. That's 394 million feet of chicken wings which means that a chicken really could cross the road at least 13 million times.
In 2018, Wild Wing Cafe sold 179,342 Chicken Wings and this year we're looking to top that. We know that plenty of you will be getting wild IN our locations but plenty of you will be watching from home and ordering your Big Game Home Menu from us before it starts.  
If you're throwing your own party the day of the game, we've got some WILD SUPER BOWL HACKS to make the party process a little easier. Of course we love to see you here, but we've got you covered when it comes to throwing a WILD PARTY back at the house!
Ordering Ahead Hack: Super Bowl Orders at the Wing
The best way to get ahead of the Big Game is to go ahead and Order NOW! Call up your local wing and ask for a manager. They will take your order and help you figure out the best pick up time to pick up your food the day of the Game.  Make sure to ask where you should be picking up your order that day just in case they provide a special BIG GAME To-Go Area! Click
here
to find your Local Wild Wing!
Appetizer Hack: Dress Up your Spinach Dip (Hot or Cold)
It's not always about the wings. Dips are a major go-to during the Big Game. We have an array of options with our Buffalo Chicken Dip, Queso Dip, and Guacamole Dip, but our Spinach Dip is a huge staple every year. Instead of just serving it in a regular bowl and dishing it out to your guests, go to the supermarket (or Amazon Prime- it is 2019) and grab a bread bowl to place your dip in! Go from BASIC to BOUGEE in 2 minutes. No one will ever know. Here's an example from
Whole Foods
! 
Dessert Hack:Football Shaped Brownies
Did you know that you can order our brownies in bulk? Order some for the game and grab a
Football Cookie
cutter & some white frosting. Use the cutter to form delicious little footballs and use the White Frosting to decorate. Don't forget, you can use the ends that were cut to add another potential dessert to your menu! Super Bowl Bingo/ Commercial Rating Cards
With all the competition going on the day of the big game, why not add a little more? Pass out Super Bowl Bingo cards
(
grab your Free
Football Bingo at the Wing sheets (1)
) to your party goers while the game is on to amp up the competitiveness.   Another way to add fun to the party are Commercial Rating Cards. Attach numbers from 1-5 to popsicle sticks and have your guests rate each commercial!
Drinkware Hack: Solo Cup Lines
We all love the classy, infamous solo cup.  For the Big Game, it's important to know the secrets of the solo cup. Did you know that each line on the cup provides a purpose?
Lowest Line = 1 Serving of Liquor (1oz)
Quarter Line= Wine Serving (5 oz)
Line Above Quarter Line= Beer (12 oz)
Apparently 335 million gallons of Beer are consumed each year during the big weekend so make sure you have your solo-cup game on lock!
Beer Hack: Freeze Water Bottles to Chill Your Beer
We're about to change your life. Take a beverage cooler and line the bottom of it with frozen water bottles. Place beer bottles or cans into the cooler. Strategically mix in the frozen water to help chill the entire cooler of beer. This will not only provide guests with cold water after halftime, but it will keep the beer from getting wet with melted ice.
Organizing Hack: Condiment Carriers
This is one of our favorites. With all the food being passed around the day of the Big Game, there will be a huge need for condiments. Weeks before the game, keep any of your six-pack carriers from past beer runs and turn them into condiment carriers. It gives your party some edge, makes the condiments more portable, and helps your party-goers stay organized.
What are some of your favorite hacks you use to throw the Perfect Party for the Big Game? We'd love to hear! Whatever you plan to do for Super Bowl- be safe, stay wild, and don't forget we'll be around on February 5th to help you with that hangover 🙂